Hello dear few but awesome readers!
This month I learned that it is better to keep with high rating loan originators than to try to diversify with a lot of medium ones… In Mintos at least, diversification equals more loss. Some of their loan originators have gone bad and some are even not willing to pay back their investors.
Keep in mind that I'm still in the Grupeer's Law case, which hopefully will return some of my funds back…
| | | | | |
| --- | --- | --- | --- | --- |
| Platform | Portfolio Value | Monthly Profit | Total Profit | XIRR |
| Mintos | €1544.28 | €20.90 | €275.66 | 12.79% |
| Swaper | €500.22 | €8.03 | €169.94 | 13.29% |
| PeerBerry | €1410.29 | €15.64 | €187.90 | 12.58% |
| Robocash | €528.89 | €8.73 | €130.67 | 11.93% |
| Iuvo Group | €407.53 | €2.34 | €21.34 | 11.17% |
| Crowdestor | €1314.39 | €27 | €69.36€ | 5.85% |
| Lendermarket | €132.01 | €0.86 | €10.92 | 13.62% |
| Kuetzal | €0 | €0 | -€200 | N/A |
| Envestio | €0 | €0 | -€200 | N/A |
Crowdestor

Crowdestor has been implementing some new features in the web application. They want to create a table with more information to investors concerning late payments, defaults, active investments and so on…
This way, it will be easier to keep track of what's going on in the world of Crowdestor. They've also developed a page for borrowers. Cheers to that. But I'm still waiting for some payments since April/May…
Iuvo Group

Iuvo Group has presented a new loan originator from Poland – iCredit Poland – and continues to try recovering funds to investors from another Polish loan originator who things gone wrong – CBC.
Lendermarket

Lendermarket published Creditstar Group Q2 2020 results to inform about its business performance.
The results of the only (but impeccable) loan originator from Lendermarket remain positive:
Creditstar Group remained resilient and profitable throughout Q2 despite COVID-19 and resuming to growth.
I'd like to invest more in this platform, but without a secondary market, I'm yet not sure. I hope the results will keep this strong though. Maybe I'll change my mind.
Mintos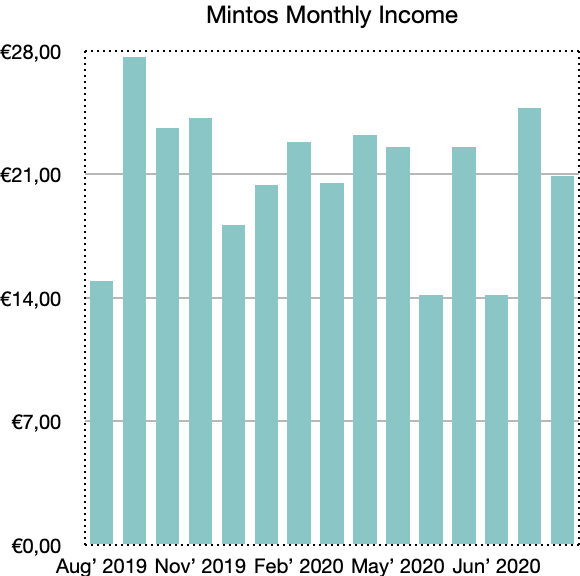 I am extremely sad with the way Mintos is handling the situations with some loan originators (Capital Service, Finko…). The way in which they got screwed by some of their well-ranked loan originators makes me doubt the rating made by Mintos.
I currently have more amount in recovery than of total profit… My passive income is starting to change into lost income?
PeerBerry

There are new opportunities to invest in PeerBerry:
✔️ Gofingo Group introduced 9 months term business loans offered by Ukrainian companies Euro Groshi, Gofingo UA, and Zecredit. More about Gofingo Group business loans.

✔️ The new type of short-term loans, offered by Aventus Group Polish company Smart Pozyczka is added to the PeerBerry loan originators list.

✔️ Aventus Group company Credit Plus in Kazachstan started to offer short-term loans for PeerBerry investors. More about loan originator Credit Plus KZ.

✔️ New real estate development partner SI Baltic was added to the PeerBerry loan originators list in July. More about SI Baltic.
Robocash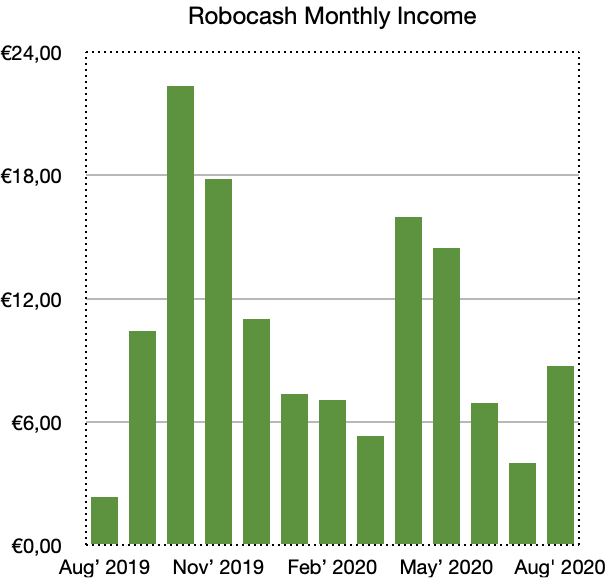 Robocash keeps stable and with good interest rates. It is important to notice that all interest rates will lower from 14% to 12% since the 1st of September.
Swaper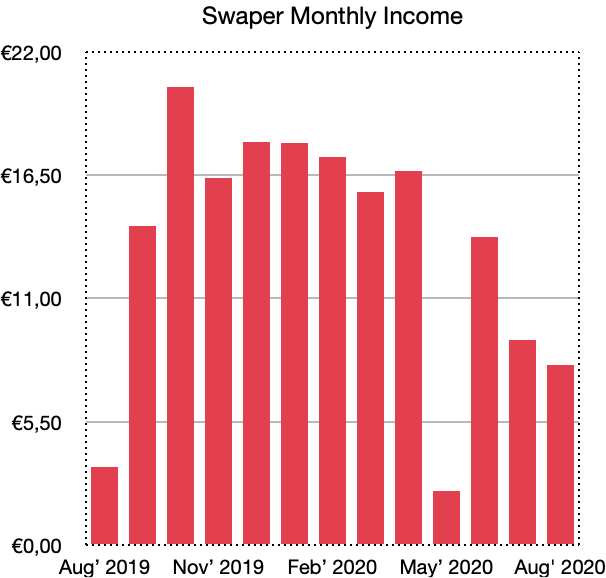 Swaper had a relatively calm August without any major changes. I withdrew some of my portfolio in the end of the month.
Interest in Creating Your Own Blog?
I use Siteground to host my WordPress website. It's cheap, reliable, and fast.