Dear readers, I hope you're in the safety of your home while reading this.
COVID-19 outbreak has come not only to torment us but also to reveal at least (I still have a little hope though) another fraudulent platform – Grupeer.
Whereas some of us might have lost our money, at least it is another step in the regulation of these platforms, I hope.
If you'd like you can read more about these topics that I've recently written about the impact of this outbreak in the P2P industry and/or read the latest unfortunate news concerning Grupeer.
This might be the last month that I calculate my monthly income with Grupeer, as it all indicates to be a scam.
I should also mention that I'll start withdrawing my money from P2P until this outbreak settles down AND I see start to see Crowdleding becoming regulated and licensed by the respective entities.
| | | | | |
| --- | --- | --- | --- | --- |
| Platform | Portfolio Value | Monthly Profit | Total Profit | XIRR |
| Mintos | €2272.13 | €20.49 | €172.13 | 10.46% |
| Swaper | €2019.98 | €15.75 | €119.97 | 11.49% |
| Grupeer | €2699.01 | €25.56 | €199.01 | 14.47% |
| PeerBerry | €2100.21 | €22.84 | €100.21 | 11.54% |
| Robocash | €1081.26 | €5.30 | €81.26 | 9.26% |
| Iuvo Group | €405.79 | €5.79 | €5.79 | 17.51% |
| Crowdestor | €1321.61 | €0 | €21.61 | 4.19% |
| Lendermarket | €200 | €0.43 | €0.43 | 1.91% |
| Kuetzal | €0 | €0 | -€200 | N/A |
| Envestio | €0 | €0 | -€200 | N/A |
Mintos

Mintos has revoked a license with one of their loan originators in Armenia: Finko.
The chaos around the COVID-19 outbreak also created liquidity problems in the secondary market as a big percentage of the investors are trying to remove their money because of fear and panic.
This lead Mintos to introduce a secondary market fee.
Grupeer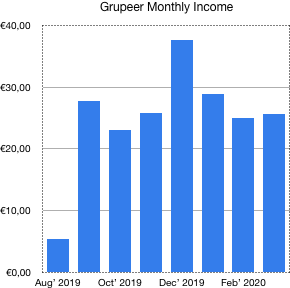 About Grupeer you can read my latest post where I talk about the last events that seem to indicate this company is nothing but a scam.
Swaper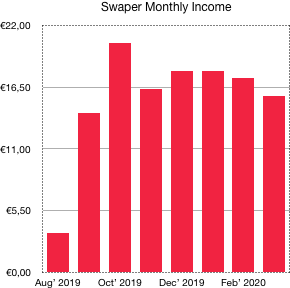 Swaper has increased all of its interest rates from 12% to 14%. For new investors or those who have a portfolio above €5000, it raised from 14% to 16%.
Below's an excerpt from Swaper's statement to explain what they're doing in this COVID-19 crisis.
There are no delays in outstanding payments on Swaper platform.

Swaper together with the loan originators are constantly monitoring the situation and acting accordingly to protect the investors.

All loan fluctuations are recorded in each country.

Swaper increased interest rates for investors. We believe that even in the current conditions, there is still room for increasing interest rates and remain profitable.

Contact with lenders has been maintained for daily updates.
PeerBerry

PeerBerry has taken a lot of measures to fight the coronavirus threat. The Additional Group Guarantee is supposed to continue when the Covid-19 disappears.
About additional Group guarantee: https://blog.peerberry.com/blog/aventus-group-and-gofingo-group-applies-an-additional-group-guarantee-to-protect-all-investors-investments/

About risk management: https://blog.peerberry.com/blog/aventus-group-risk-management-is-a-key-for-sustainable-business/

New adjustments to ensure PeerBerry investors protection: https://blog.peerberry.com/blog/important-adjustments-to-ensure-peerberry-investors-protection/

Key performance figures of PeerBerry business partners for the 01.03.2020 https://blog.peerberry.com/blog/peerberry-business-partners-are-fully-capable-to-overcome-economic-downturn/
Robocash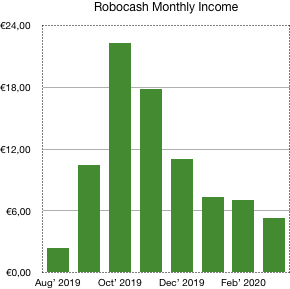 Robocash also increased all of its loans up to 14% interest rate.
Their CEO assured that the pandemic has not affected the working process of the parent company – Robocash Group.
Concerning the business performance in individual countries, our companies in Russia, Vietnam, Indonesia and Kazakhstan, where the number of coronavirus cases is relatively low, keep working at the same pace and maintain the growth.

However, we have to admit that there has been a slowdown in the issuance volumes and customer demand in India this month, which has introduced the quarantine regime in at least 80 cities. As the people tend to spend less money now, the demand for short-term loans in the country has decreased.

A different picture is observed in Spain. The number of new customers of our lending service Prestamer.es has increased by nearly 40% in March compared to the same period last month
Crowdestor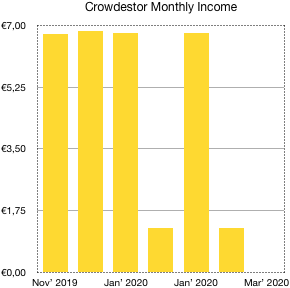 Crowdestor has suspended all the payments from its borrowers for a period of 3 months. Since some of the borrowers must stay closed during this time, it seemed like a reasonable thing to do, in my opinion.
They've also created a group on Facebook for Crowdestor investors, where you can ask anything you feel like about the company.
Iuvo Group

Iuvo Group has introduced a new loan originator – NordCard.
You can also read their statement about the status of their loan originators during this pandemic.
Lendermarket

Lendermarket has increased its interest rates to 14%, similarly to other platforms.