Note: Fastinvest is not regulated nor licensed by the European Union.
Note 2: I withdrew all my money from FastInvest before they revealed themselves as a seriously suspicious platform in the P2P market. There were many warning signs from the Crowdlending community explaining why something didn't seem right with this company. You can read more about it here.
Disclaimer: This FastInvest review is 100% impartial and based on everything I learned. I recommend everyone to do their own due diligence as I am not a finance expert nor a financial advisor.
Last update: 3/01/2020
(I decided to remove my funds from FastInvest because of the lack of transparency concerning loan originators).
About FastInvest
FastInvest is a company with offices located in the United Kingdom and Lithuania. They have plans to keep expanding abroad though and to even cross continents to implement their vision.
Below you can take a look at their stats. FastInvest has been growing at a good pace in the past times. There's a growth of investment volume and registered users.
FastInvest has a reasonable rating on Trustpilot and a lot of reviews were made by other blogger.
They have a blog where they update consistently valuable information to their readers. They try to give some insights about the finance market and investing in general. You can always have a nice read there and learn some useful things.
Their CEO has been in the company for 3 years already and she is only 24 by the time I'm writing this review (2019). Many investors are worried because they assume it can be dangerous to have such a young person leading the company or that she is a "beauty face" behind someone else.
Buyback Guarantee & MoneyBack Guarantee
Like all the other platforms I invest in, FastInvest also offers a buyback guarantee. You can choose to receive your money back from a late loan after 3, 7 or 15 delayed days.
Besides Buyback Guarantee, FastInvest offers a MoneyBack Guarantee which assures the investor can have his money back returned to the account within one business day, without fees.
This feature can be really useful for people who need their money back in a fast period of time.
Loan Originators
Only recently did FastInvest start showing the new added loan originators. The previous ones are still not available to investors. Therefore, I am not comfortable in investing in this platform a good amount of money until they solve this important part of the business.
Concerning the loans itself, there is only one type: consumer loan.
It is possible to view some information of the borrower like: gender, age, location, credit amount, etc.
Payment Types
Currently, FastInvest accepts deposits as bank transfers either in the EUR or PLN currency. Make sure to transfer from an EUROPEAN UNION bank account.
You can see the history of my FastInvest deposits or withdrawals throughout time.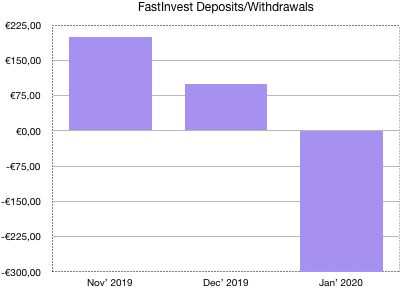 My Auto-Invest Strategy (when I tried FastInvest)
Since so far, FastInvest seems to have a lot of loans with high interest rates, I'm only looking for loans ranging from 13% to 16%. I'm not worried about investing in these because of the buyback guarantee that FastInvest offers.
The rest of the settings were made to minimize the cash drag problem. I don't mind that loans are 1 or 12 months. I'm gonna get paid anyway :-). Of course that I also accept loans from every available country, since I want to broad my loans and diversify as much as I can.
Verdict FastInvest Review
There are still some improvements to the future like showing the name of all the loan originators to the investors. The more transparency we have, the better for all. At least that's how I like to think.
The number of loans is ok for now and there is no cash drag, which is important to any investor.
I like their ambition and will to keep improving their company. You grow or you die nowadays and a company that cannot update their skills will eventually run out of business.
I would wait and see a little more what time will bring before I really invest in FastInvest.
My Portfolio & Other Reviews
See my peer-to-peer portfolio page if you want to find out more about my portfolio performance.
Besides my FastInvest review, you can also read about: