Disclaimer:Read more about the reasons I stopped investing in P2P and why I'm continuing to invest in stocks and cryptocurrencies in the long-term. Always do your own due diligence before investing.

If you register to Kviku both of us might receive a commission.
About Kviku
Many of us know Kviku from other platforms such as Mintos, Iuvo Group, Bondster, and Viventor. Since their launch in 2013 that they have expanded their operations in countries such as Spain, Poland, Ukraine, Russia, Kazakhstan, and the Philippines.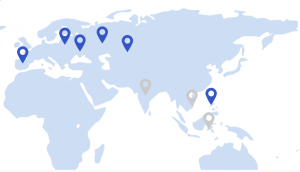 Kviku has processed more than 5 million client applications since its launch and has also issued point of sales, virtual credit cards, and lines of credit totaling approximately €100 million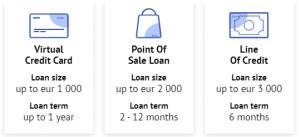 It is also worth mentioning that Kviku as of now only offers unsecured consumer loans meaning that there is no asset as collateral to recover the loan in case of default from the borrower.
The above can be seen as a positive thing if we take into consideration that therefore Kviku is increasing the evaluation criteria to whom they will borrow money.
Buyback Guarantee
It is no surprise that Kviku offers a buyback guarantee, like many other platforms. In theory, it means that no investors would lose their money if a borrower decided not to pay a loan.
In real life we know things can go south, and lending companies can also close their doors. It happened in other platforms and it will surely happen again. It is our responsibility to keep an eye on the platforms we invest and check if they're doing good results over the years. That's the least we can do.
Nonetheless, Kviku itself warns of the potential risks of their platform (kudos to that):
Credit Default risk

Kviku offers to invest in unsecured long-term loans, issued by Kviku Group in Spain, Poland, Kazakstan, Philippines and Russia. The repayment of the invested amount depends on the individual borrower – if a loan is repaid on the agreed time, the investor immediately receives the invested amount and interest. If the loan repayment has been delayed, loans that are supported with Buyback will be bought back by Kviku Finance.
Currency risk

When registering with Kviku Finance, investors can choose to open their investor account in EUR. Choosing EUR currency should allow most investors to eliminate risks associated with exchange rate fluctuations and minimize the fees incurred while transferring funds.
Platform risk

When investors invest in a loan, they are buying claim rights against the borrower based on assignment agreements. In the unlikely case that Kviku Finance would go out of business, these assignment agreements would remain in place and would not be affected, i.e. investors would still have a claim right against the borrower.
The risk information was collected directly from Kviku FAQ's page and should be taken seriously by any person willing to invest.
Even in the last risk, can you imagine the struggle it'd be to have to deal with possibly hundreds of investors to get your money back? Having to deal with law cases? Yeah… keep an eye on.
Loan Originators
All of the loan originators belong to the Kviku Group and they are from different locations:
Spain – Launched in 2019;
Poland – Launched in 2019;
Russia – Launched in 2013 (the first one);
Ukraine – Launched in 2020;
Kazakhstan – Launched in 2018;
Philippines – Launched in 2020;
Kviku is still expanding their business as they're getting positive results in the previous years. Thus, the next plans include loan financing in:
India in 2021;
Vietnam in 2021;
Indonesia in 2021;
Primary Market
The primary market is full of options and different interest rates, for all tastes. At the current moment there are hundreds of available loans and the diversity seems immense.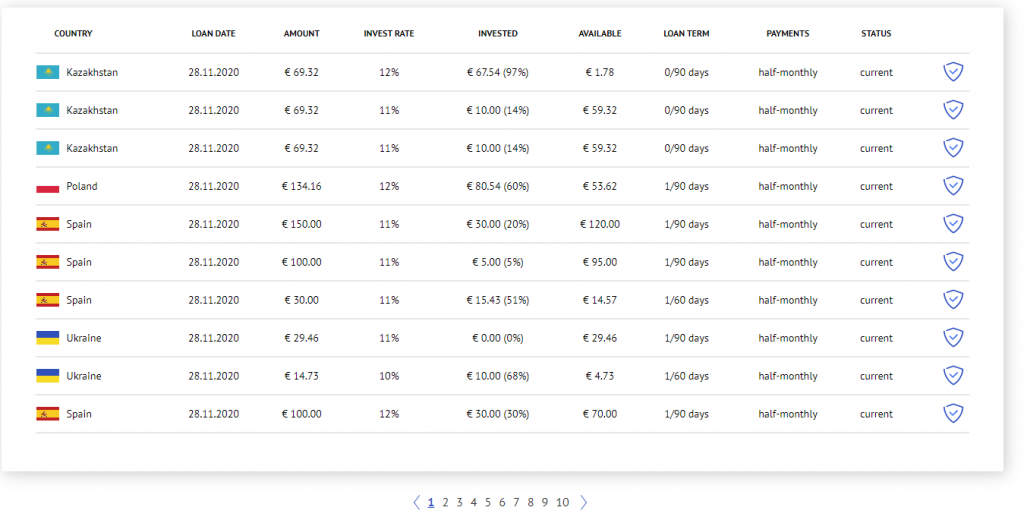 It is also possible to filter all of these loans by country, amount, credit term, and credit date.
Secondary Market
There is still no secondary market meaning that investors cannot sell their investments during the loan term.
Payment Types
As of this moment, you have 4 different ways to add funds to Kviku Platform:
Bank transfer (SEPA)
Online card payment
Bank transfer (International EUR)
Bank transfer (International USD)
My Auto-Invest Strategy
I basically picked all countries in order to diversify my portfolio. As they are owned by the same group, I decided not to be picky. In other platforms, sometimes it is worthier to choose the right loan originators rather than a lot of them.
I also prefer short loan terms, so I changed the period of repayment range from 90 to 30 days.
All of the remaining settings I left at default.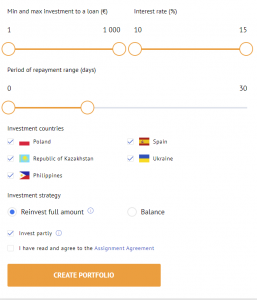 Verdict Kviku Review
Kviku has been in the world of lending money since 2013 and so far it seems like a good player.
Besides having their own platform, the demand is so reasonable that they have diversified their loans through other platforms, as mentioned in the beginning of this review.
As long as I will feel safe, I will keep reconsidering reinvesting in them.
Also, investors who have entrusted Kviku more than 1000 EUR for investment, are granted with an additional +1% to the interest for all the other new investments.
Overall I think is a solid company. Don't forget to also check their FAQ page and make your own due diligence.
Welcome Bonus Referral
Both of us will win a bonus commission if you decide to register with this bonus referral link. It's a win/win situation as described in the 7 Habits of Highly Effective People, one of the books I recommend.
Please feel free to share the School of Freedom blog with your friends. The more people we help, the merrier.
My Portfolio & Other Reviews
See my peer-to-peer portfolio page if you want to find out more about my portfolio performance.
Besides my Kviku review, you can also read about: