Disclaimer: Read more about the reasons I stopped investing in P2P and why I'm continuing to invest in stocks and cryptocurrencies in the long-term. Always do your own due diligence before investing.

If you register to Mintos both of us might receive a commission.
About Mintos
Mintos is a Latvian company that was founded in 2014. Nowadays, it is one of the biggest (if not THE biggest) Crowdlending platforms in the world and the one with more European users. Currently, Mintos has more than 385 000 investors all around the globe and they've funded more than €6 000 000 000 in loans.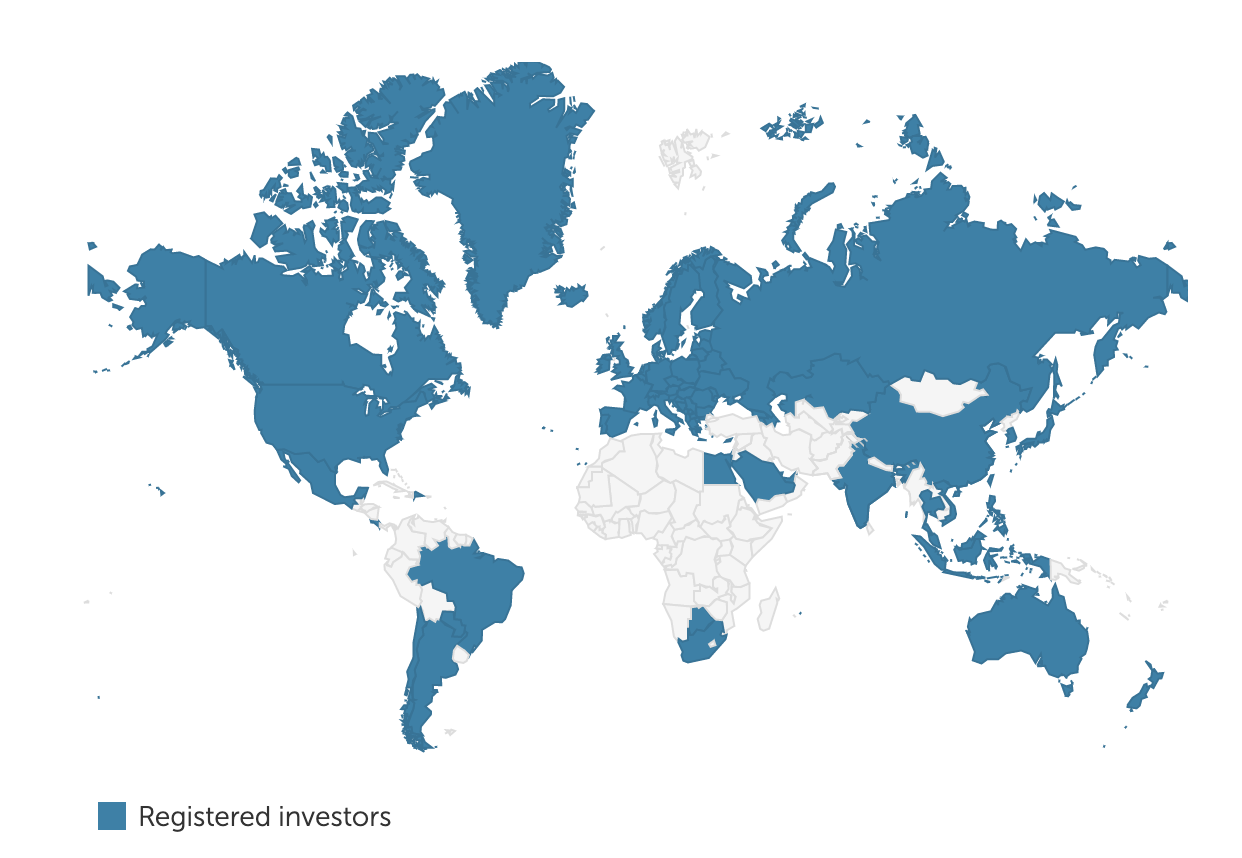 They have shown throughout the time that they're a platform in which users can trust and that they're always evolving in a growth mindset way. The company offers an interesting average interest rate of 13%, which is pretty good (maybe too good?).
You can also take a look at their latest financial reports and audits here.
Mintos is currently regulated as a Licensed Investment Firm, which means that investors should have increased transparency and protection while using the platform.
It also obtained an Electronic Money Institution License which will allow investors to have a completely separate payment account from Mintos, thus increasing the safety of the funds.
Buyback Guarantee
Mintos offers a buyback guarantee, which is provided by its loan originators. When you participate in a loan with a buyback guarantee, it means that in the worst-case scenario of the borrower, not paying you back, you'll still receive 100% of your money, UNLESS the loan originator goes bankrupt. In the very unlikely event that it happens, you may still receive all (or part of) your money back, according to this Mintos's article.
Buyback Guarantee Obligation (Update November 2020)
A nice update from Mintos. The first platform to change the name of the so-known buyback guarantee to buyback obligation.
I really support this change as it may be clearer for new and current investors to what really means to have buyback in the bought loans.
Mintos Blog & Cashback Campaigns
Mintos also has a blog where they often post about crowdlending tips and news about its loan originators. They seem to be transparent about the good and the bad things. They speak about loan originators that went bankrupt, why they decided to stop cooperating with some loan originators, etc. For now, they do seem to be trustworthy in the aspects mentioned previously.

As other platforms do, some loan originators make cashback campaigns some now and then where you can earn an extra % of your investments within that loan originator.

Loan Originators Detailed Information
Another great thing about Mintos is that you can clearly see the full overview and detailed information about all of the loan originators.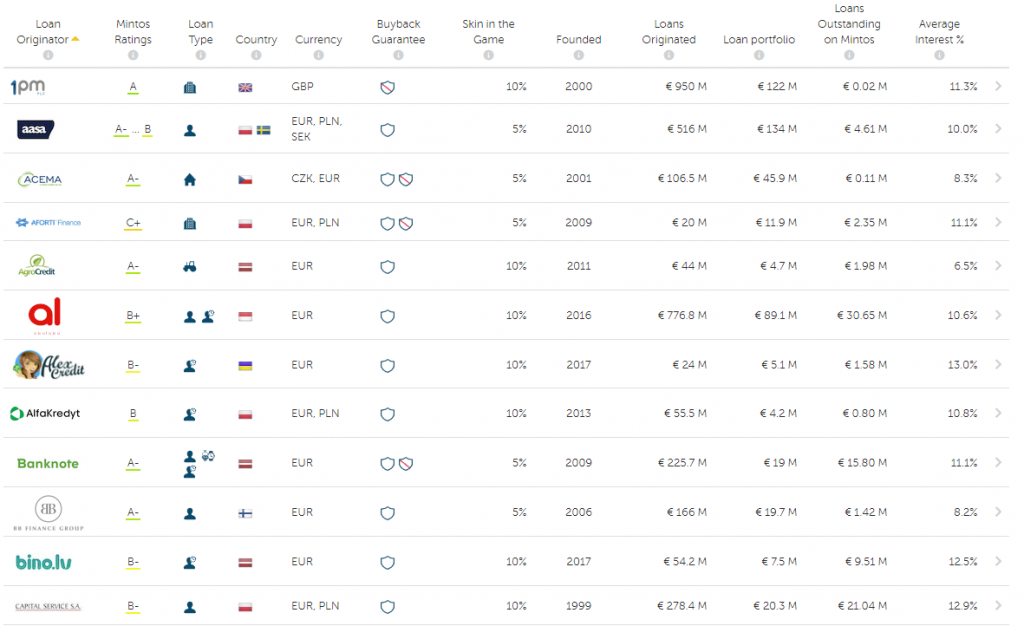 Mintos provides a lot of value and useful information about their partners. By viewing these detailed aspects you can make a wiser choice when picking the loan originators in which you want to invest.
You can even decide to use the same strategy as I do, which is to only choose loans that have a buyback guarantee and an interest income on delayed payments.
Payment Types
My first deposits were by bank transfer and everything went smoothly. It took one business day to receive the money in my Mintos's account.
I also tried to withdraw after my first deposit (a practice I always do to test as much as possible). It took only 2 business days.
After a few deposits by bank transfer, I tried to do one by Direct transfer with Trustly. Things didn't go so smoothly this time. I transferred 500€, the money left my bank account but didn't enter Mintos.
I got worried because it was the first time I was investing in these kind of platforms. This provider also claimed to make the transferer within minutes.
I contacted Trustly support and it was told to me that there was a connection problem during the transaction. Well… it shouldn't happen in such a big platform like Mintos. People shouldn't have to be worried about money transactions and where their money is. Fortunately, after 2 business days, Trustly refunded me and everything ended well.
This situation made me a little more skeptical about Mintos, but as competent as they've shown to be, I'm not worried and I'm certain they will solve this as soon as possible. Update: Mintos does not work with Trustly anymore.
From then, I only do bank transfers, which work pretty fine. I want to be clear that just because this happened to me and a few others, doesn't mean that it will happen to you. I just want to share with you my full experience.
Primary & Secondary Markets
The main difference between these two is that you can buy loans from other investors at a discounted price in the secondary market whereas the primary market offers new loans.
The secondary market is a good form to get your money back to your bank account in just a few days if you really need to.

You can also set different auto-invest strategies for both primary and secondary markets.
My Auto-Invest Strategy
The auto-invest feature is of extreme importance as allows you to be less time looking to invest in new investments. It allows people to configure their investing strategy to work in an automatic way.
I prefer a short-term investment strategy between 0 and 12 months.
To diversify as much as possible I created two portfolios: one for the primary market and another to the secondary market.

I choose to receive from 12% interest rates. Since this rate is somewhat high, in the next conditions I prefer to play it safer. I only choose loan originators with risk scores between A and B. Anything below that I will not put in my list.
Next, I look at the ones that have buyback guarantee included and KEEP those. The rest of the settings concerning the loan originators I leave to the default.
After, to diversify a little more I choose to NOT include loans in which I already invested in AND to diversify across loan originators. The maximum that I want to lend per loan is between 10€ and 50€ (I would increase if I saw that my money was not being invested quickly). It's not a lot but is more diversified like this, and safer.
Last but least, I select to NOT include loans already invested in. Note: On 20/08/2019 I changed this option to yes since my money was not being invested so quickly.
Below is the configuration for my primary market auto-invest strategy, which is exactly the same for my secondary market's strategy.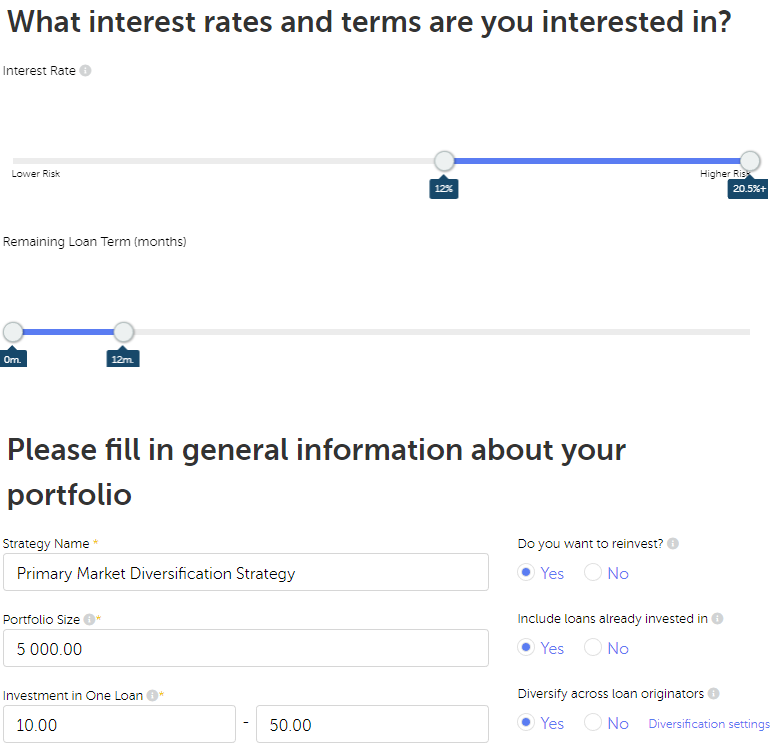 Update on my auto-invest strategy (August 2020):
I have decided to pick the top rating loan originators on Mintos due to my loans which are in recovery (from less rated ones).
As of now with my experience in this platform, it is better to diversify in the few strong ones, rather than in as many as we can.
Invest & Access
Besides manual and auto investing strategies, Mintos also offers another type of investment: Invest & Access.
This is a solid choice in case you need to cash out your money instantly. Unlike the secondary market, you won't have to wait for other investors to buy your loans.
Of course that this ease of use comes with a drawback: the interest rates are lower than in the other forms of investment.
Verdict Mintos Review
Among all the crowdlending platforms I invest, Mintos is clearly the one I trust the most because of its size, transparency and loan track record.
As long as the interest rates will keep high and the loan originators continue to have a good partnership with them, I'll definitely keep reinvesting on Mintos.

I hope that this Mintos review was helpful for you.
Welcome Bonus Referral
Both of us will win a bonus commission if you decide to register with this bonus referral link. It's a win/win situation as described in the 7 Habits of Highly Effective People, one of the books I recommend.
Please feel free to share the School of Freedom blog with your friends. The more people we help, the merrier.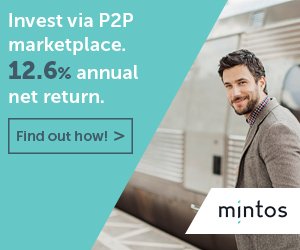 My Portfolio & Other Reviews
See my peer-to-peer portfolio page if you want to find out more about my portfolio performance.
Besides my Mintos review, you can also read about: