Disclaimer: Read more about the reasons I stopped investing in P2P and why I'm continuing to invest in stocks and cryptocurrencies in the long-term. Always do your own due diligence before investing.

If you register to Neo Finance both of us might receive a commission.
About Neo Finance
Neo Finance is based in Lithuania and started its operations in 2015. This company focuses mainly on consumer loans such as (mainly):
Car Loans;
Personal Loans;
Home Repair Loans;
The interest rates range from 5% to 20% and each loan has a specific rating in order for you to better understand the risk you're taking (from A+ (very good) to C (really risky).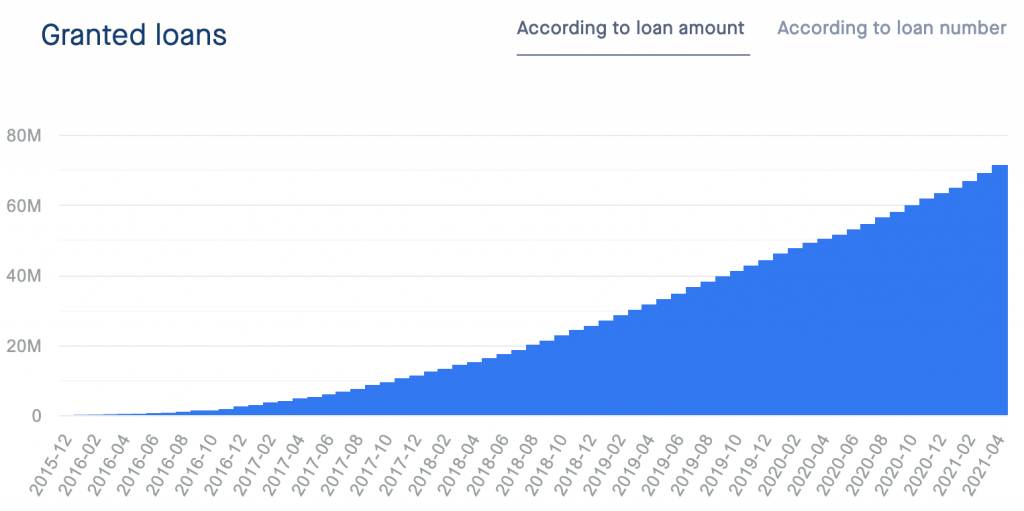 Electronic Money Institution (EMI)
It is worth noticing that Neo Finance holds an Electronic money institution license issued by the Bank of Lithuania. This means that at least once per year, the company must adhere to an external audit and to show financial data to its supervisor.
This is great, as we, as investors, shouldn't have to make an investigation on the realness of a company and its own deals. All we want is passive income by choosing a platform that chooses to be controlled by external entities.
Your Own Bank Account
To invest in Neo Finance, you'll need to open your own Lithuanian bank account (directly in their platform), which is supervised by the same Bank of Lithuania. This adds an extra layer of security and Neo Finance has no business with your own bank account.
Initial Public Offering (IPO)
Neo Finance also raised an IPO and it's now publicly trading in the Nasdaq Baltic Main List.
Buyback Guarantee
Neo Finance won my attention with their transparent buyback guarantee. They are not giving false promises and openly explain all the issues inherent to a consumer loan.
If a certain period of time passes without receiving any payments from the borrower, Neo Finance might decide to start a judicial process in order to get the investment back.
Being aware of all these risks, they have created a special tool, the provision fund, in which you wouldn't need to wait for the company to get your money back by having to start a law process.
Provision Fund
The provision fund is an optional fee that investors can pay while picking a loan to invest in. If the loan gets defaulted, the investor is guaranteed to receive all its principal back (as long as there are funds in the provision fund).
This adds another layer of security to us. Obviously, the downside is that we are reducing our XIRR. But in the end, a bird in the hand is worth two in the bush.
It is also worth saying that the fee depends on the rating of the loan. The safer the loan, the lower the fee, and vice-versa.
Loan Originators
Unlike other platforms in which I speak in my portfolio, Neo Finance is the sole loan originator. This is good in the way they can have more control over their deals.
On the other hand, it may impact the diversification part, as if they'll get financial problems it may be harder to recover from it.
Primary Market
New loans are issued in the primary market. Usually there are not so many loans available. Fortunately, a big amount of them require large amounts to invest, giving an opportunity for more investors to participate in a specific deal.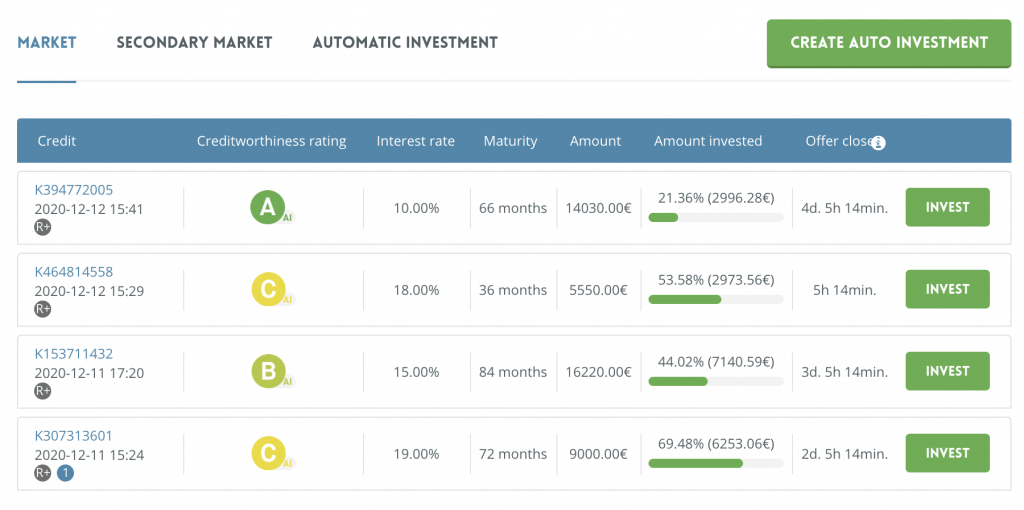 There are interest rates to any tastes. Either for conservative or more aggressive investors.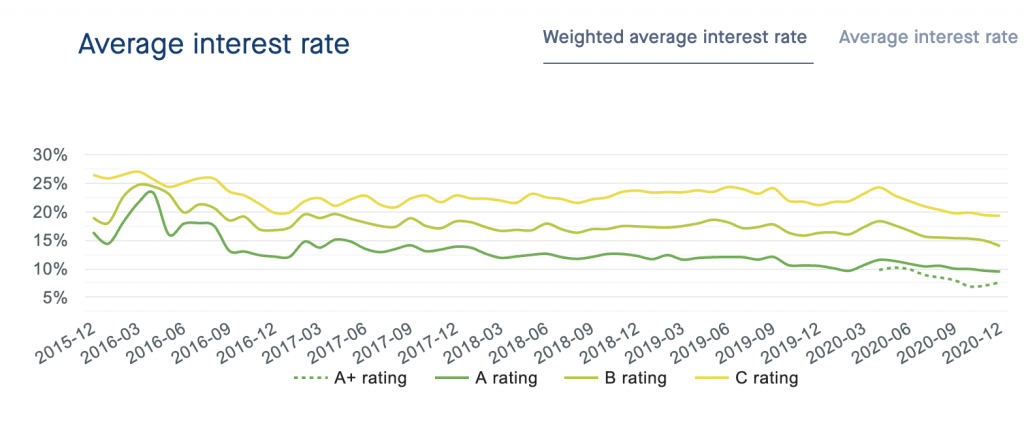 Secondary Market
Loans can be bought or sold in the secondary market. Be aware though, that you need to pay a 1% fee each time you do any of the previous actions.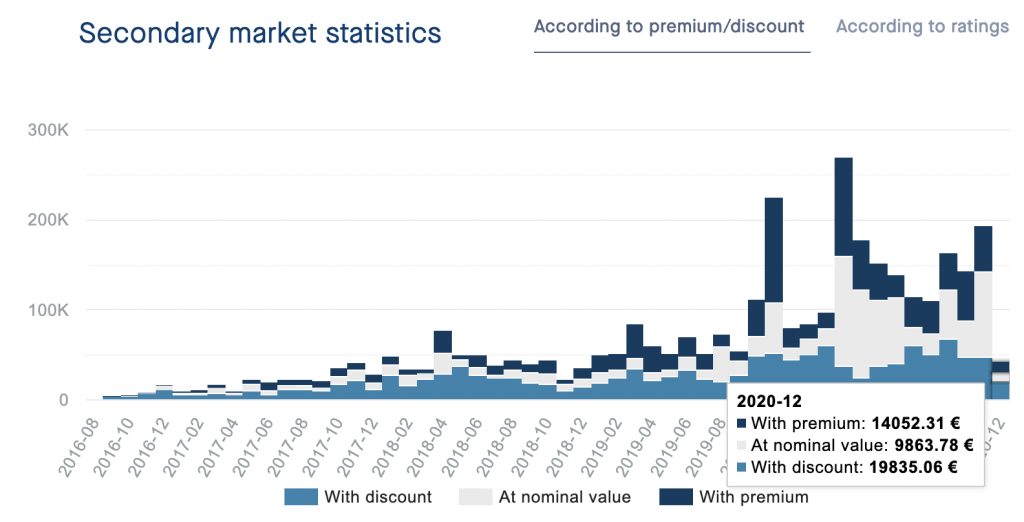 If you're lucky and active seeking for deals in the secondary market, you might find very good deals which are worth taking, even with a fee.
Payment Types
You can do a manual deposit or choose any of the available payment providers.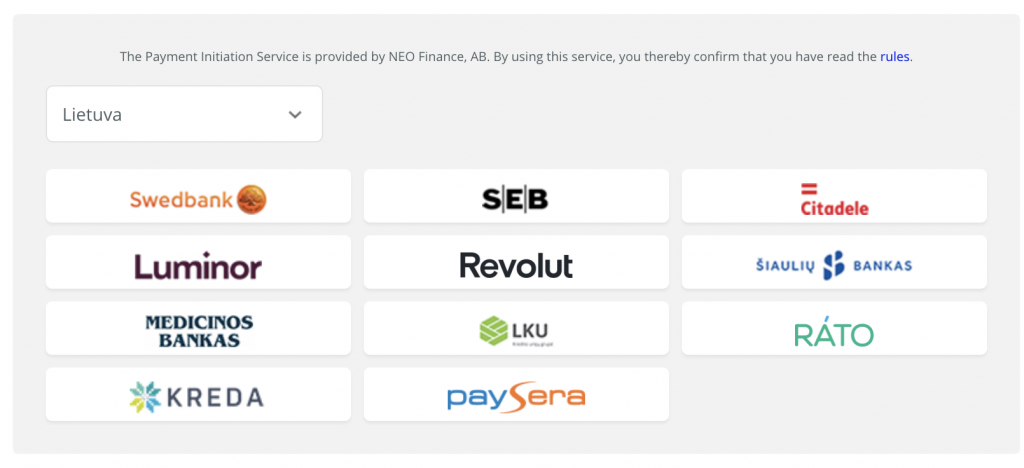 My Auto-Invest Strategy
For once, I decided to go with a VERY conservative strategy. As in other platforms, I'm going more aggressive, I decided to balance this one this way.
I'm only choosing deals with A or A+ rating and with a provision fund. I'll see that if in the long run, high rating deals in general do not need a provision fund. If I see that usually there are no defaults, I might reconsider my strategy and remove the provision fund and consequently that extra fee (thus increasing my return.
Strategy A+ with provision fund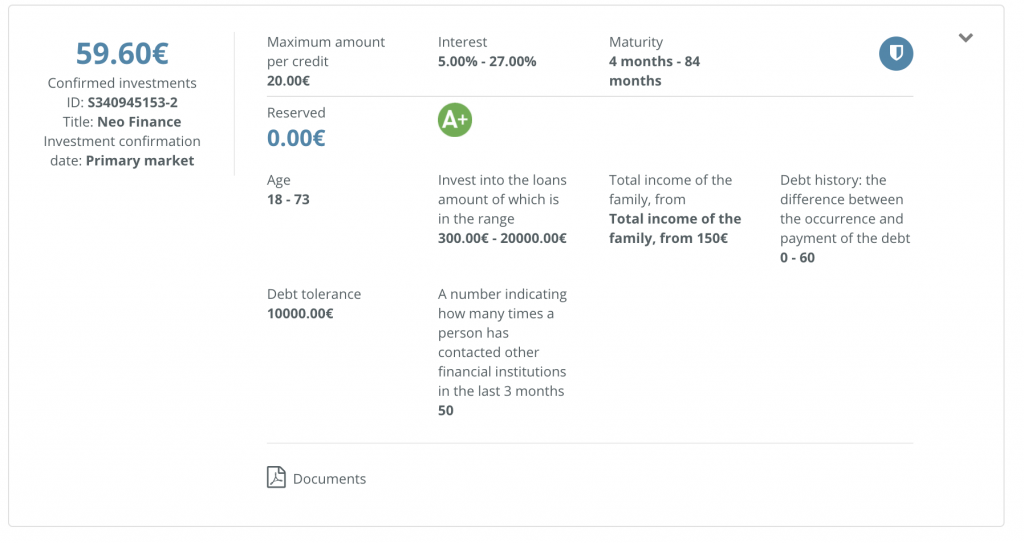 Strategy A with provision fund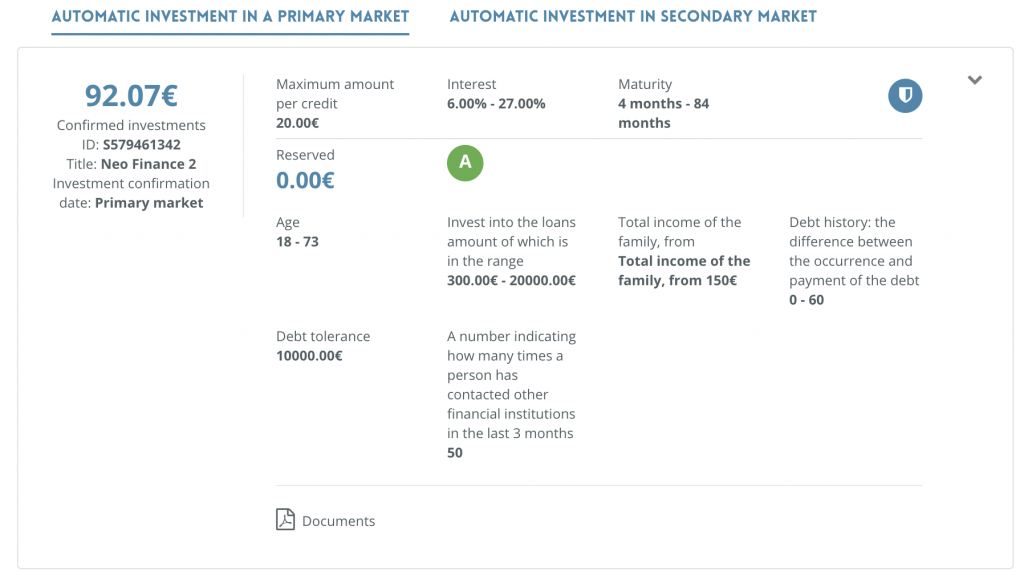 Verdict Neo Finance Review
When it comes to security and confidence in investing my money, I would risk saying that Neo Finance is on my top list, for sure.
As in returns, with the fees from the provision funds and secondary market, I'm not sure if you can expect the values from other platforms.
Overall, it seems like a good platform and company to diversify your portfolio.
Welcome Bonus Referral
Both of us will win a bonus commission if you decide to register with this bonus referral link. It's a win/win situation as described in the 7 Habits of Highly Effective People, one of the books I recommend.
Please feel free to share the School of Freedom blog with your friends. The more people we help, the merrier.
My Portfolio & Other Reviews
See my peer-to-peer portfolio page if you want to find out more about my portfolio performance.
Besides my Neo Finance review, you can also read about: