Disclaimer:Read more about the reasons I stopped investing in P2P and why I'm continuing to invest in stocks and cryptocurrencies in the long-term. Always do your own due diligence before investing.

If you register to PeerBerry both of us might receive a commission.
About PeerBerry
Surprisingly or not, PeerBerry is yet another company based in Latvia. It was founded in November 2017 with loans originated primarily by Aventus Group and its subsidiaries.
It can be curious that Aventus Group started to put their loans on the Mintos platform. Though, since they had a huge amount of customers, they decided to focus their strengths on a new partner. They have stayed with PeerBerry since the beginning.
You can read more about PeerBerry and its loan originators in the interview I did with their CEO.
Interest rate returns on PeerBerry are as high as 12%, which is pretty good and similar to other platforms I invest in.
Buyback Guarantee
PeerBerry offers a buyback guarantee on all loans if you choose that option in your auto-invest strategy. If any borrower is delayed for more than 60 days, you'll automatically receive your money back.
It is never too much to remind that, a buyback guarantee doesn't mean your money is 100% secure. Remember that the loan originators can always go bankrupt due to some unpleasant and unexpected situations.
Loan Originators & Borrowers Information
In PeerBerry you can not only know the information of the loan originators but of the borrowers as well. This is something unique that not many platforms offer. It is yet another piece of information that can give you peace of mind and more control over your investments.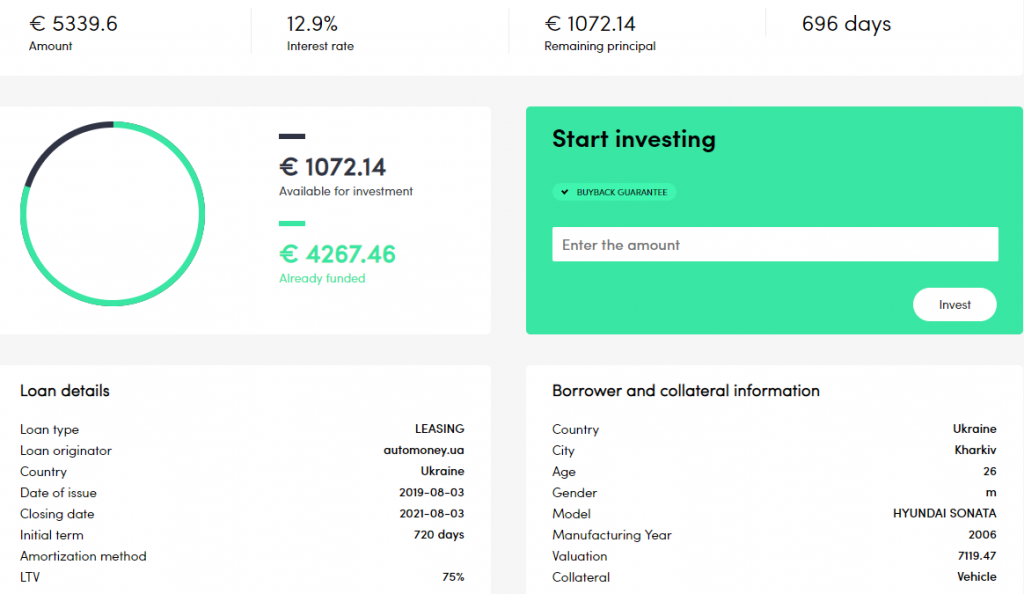 Above, you can check how specific is the information of one single loan. In my opinion, the platform has a lot to win with this transparency. I have no doubts that if they continue like this, many investors are still to come.
Financial Statements of PeerBerry Loan Originators (2020 Audit)
Go on each page and download the respective pdfs to find out more about each one of PeerBerry's loan originators finances.
Payment Types
Currently, the only option available to start investing in the platform is to make a bank transfer.
Before depositing a big amount on any platform, I always make sure everything works as expected. Hence why I only deposited €10 in the beginning and withdraw it right after I had it in my account.
I have to confess that I am quite impressed with the withdrawal process. I received the money on the same business day in which I made the request, which is pretty fast.
My Auto-Invest Strategy
If you've read my other reviews, by now you should know that I take diversification as on the most important things to keep in mind.

That is why I do not choose a very high value (€50) to invest in a single loan. I want to spread my money into multiple investments. The more the better.
The lowest percentage I got in other platforms I invest is 12% so here there is no exception and I will not go below that figure. Remember, you should never settle for less of what you've already achieved anywhere else.
I decided to put short-term loans because it avoids that the money is stuck in one single borrower for a long period of time. Imagine that the borrower fails to pay. Then I would have to wait 60 days to receive my money back. I want to minimize the risk of that happening.
The buyback guarantee is a must-have on any platform in which I invest. It is absolutely not worth the risk to choose a higher interest rate and then losing all the money you've invested.
Another important factor that leads me to choose short term loans, is the fact that PeerBerry still does not have a secondary market. This means you can't sell your loans at any given time.
The money should never be sitting around on the platform. That's why I chose a small remaining principal before the start of an investment. The reason is that I don't want to wait a very long time to start investing. As you may know: Time is money.
I chose all the available countries and loan originators (more diversification 🙂 ).
Last but not least, I want to reinvest all the money I'll earn.
Loyalty Program
Since October 2019 that PeerBerry has a loyalty program in which you can receive an extra percentage from all of your investments. Below are the different levels:

This is something that motivates me to invest even more in PeerBerry.
Verdict PeerBerry Review
PeerBerry so far has been great to invest in. The website looks like a charm and everything works smoothly. The customer support answered pretty quickly and efficiently to all of my questions.
They seem to have some strong loan originators with a good background in previous years.
I'm looking forward to investing more in PeerBerry in the future, as it looks very promising.
Welcome Bonus Referral
Both of us will win a bonus commission if you decide to register with this bonus referral link. It's a win/win situation as described in the 7 Habits of Highly Effective People, one of the books I recommend.
Please feel free to share the School of Freedom blog with your friends. The more people we help, the merrier.
My Portfolio & Other Reviews
See my peer-to-peer portfolio page if you want to find out more about my portfolio performance.
Besides my PeerBerry review, you can also read about: