Disclaimer: Read more about the reasons I stopped investing in P2P and why I'm continuing to invest in stocks and cryptocurrencies in the long-term. Always do your own due diligence before investing.

If you register to Robocash both of us might receive a commission.
About Robocash
Robocash was founded in Russia in 2013 and its numbers have significantly increased in the last years, as shown in the columns below. Nowadays they are based in Latvia, like most of these king of platforms (I guess the taxation is more suitable there).

All the numbers are positively incrementing. The number of issued loans, total assets, equity, and net profit seem to be in a very good direction. Let's hope in it will continue like this or even better.
Even though Robocash website's design is quite different from almost all the other platforms, everything works just fine. I say this because some people (like me) can be a little skeptical at the start.
Currently, you can only invest in Robocash if you own an account in a European Bank Entity.
If you'd like to know more in-depth about Robocash and its loan originators, then take a look at the interview I made with their CEO.
Buyback Guarantee
It is also really important to state that, Robocash provides a buyback guarantee. This feature will save you from having headaches when you will see that some of your loans are delayed. No worries, you'll have your money back even if the borrower fails to pay. Keep in mind though, that if one of the loan originators goes bankrupt, it is unlikely that you'll recover your money back, but possible. That's why diversification is crucial. To minimize your losses.
A Picture is Worth a Thousand Words

Like all the good Crowdlending platforms, Robocash wants its customers to make sure how they work. They have this image available which summarizes the kind of business flow you should expect from their side.
Loan Originators
You can see the list of Robocash's loan originators here.
They consist of 6 different loan originators: Préstamer, Z-Finance, RC Riga Russia, RC Riga Vietnam and RC Riga Robocash Group.
Loan Durations & Secondary Market
All the loans in Robocash used to have a really small duration (less than one month). These you can't sell. No big deal because you wouldn't have to wait for such a long time.
Nowadays, Robocash introduced the secondary market in which for longer loans (up to one year) a person can sell it to other investors. This process usually is fast and within moments you should have your money back in your account ready to be withdrawn.
Payment Types
By now, you can only deposit money in Robocash by making a bank transfer.
I was a little skeptical at the beginning of investing in this platform, as you can notice by mine initially invested 10€.
After I received the confirmation that the money was in my account, I proceeded to the withdrawal process. And yes, everything went well and smoothly.

My Auto-Invest Strategy
It's important to say that ALL of the Robocash investments are automatic. I view it as an important upgrade since it will save people's time, the most valuable asset in the world.
I prefer to invest small amounts into each loan deal. The minimum percentage that I'm comfortable with investing in is 12%. I'm okay with loans with a duration of up to one year and I'm even surprised that currently, that's the Robocash maximum limit.
Obviously, I will reinvest all my profits. It will be like this until I will have enough generated passive income to live the life I want. Then, I will start withdrawing (but still reinvesting!).
They have a payout option which means whenever you receive the earned interests you can opt to transfer it automatically to your bank account. Perfect for a state of achieved financial freedom.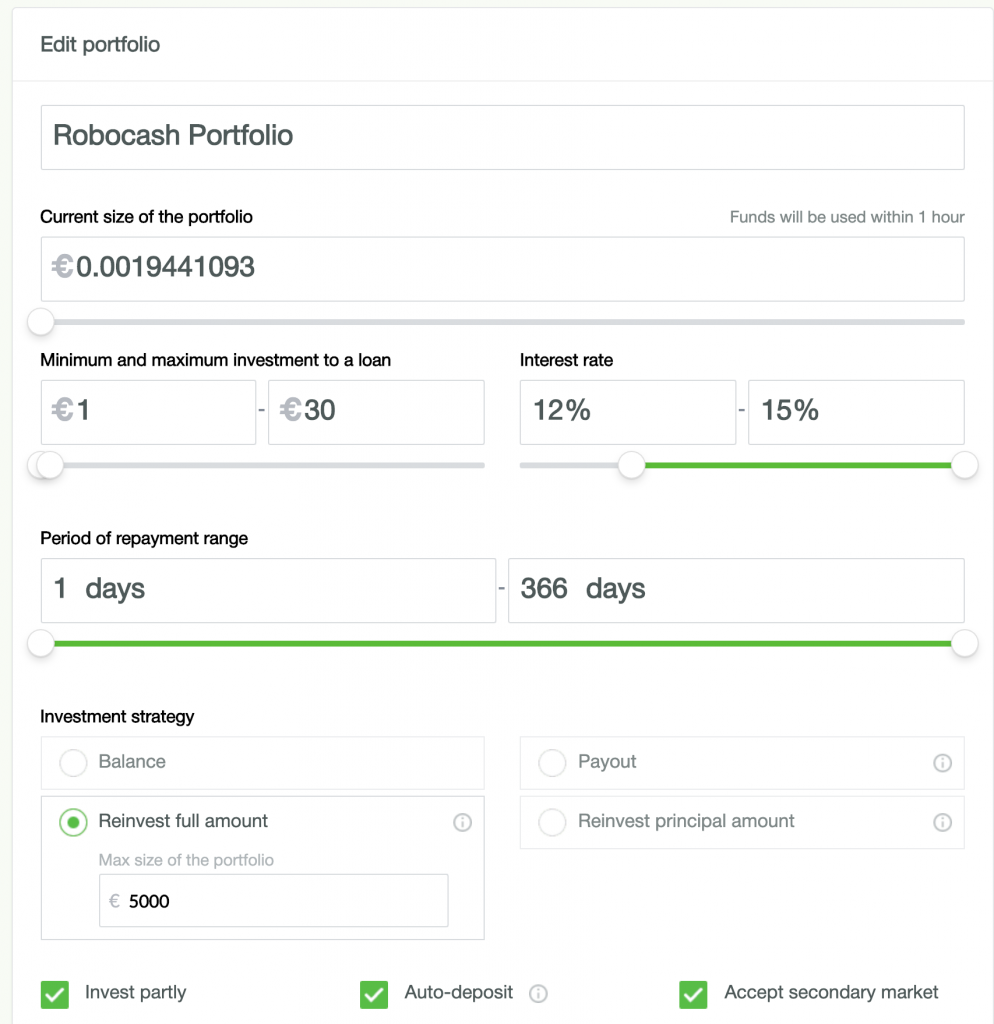 I also accept the secondary market because it allows me to sell the invested money to other users quickly. We never know when we will need to get back our money. So it's good to know if these platforms provide an easy way of removing it from our accounts.


Verdict Robocash Review
Robocash has proven to have a growth mindset. Even though in the beginning people were a little doubtful about them, they happened to prove them (and me) wrong. This is what I like about a company. When something goes bad, they fix it and make it better.
It is extremely easy to download the necessary documents to declare to your local finance authority. Simply go to Account Statement on the menu and there you go.
Last but not least, the maximum amount you can invest in Robocash is €10000. Let's hope they'll increase that value in the near future. Until then, don't forget to keep diversifying your crowdlending portfolio.


Welcome Bonus Referral
Both of us will win a bonus commission if you decide to register with this bonus referral link. It's a win/win situation as described in the 7 Habits of Highly Effective People, one of the books I recommend.
Please feel free to share the School of Freedom blog with your friends. The more people we help, the merrier.
My Portfolio & Other Reviews
See my peer-to-peer portfolio page if you want to find out more about my portfolio performance.
Besides my Robocash review, you can also read about: