Disclaimer: Read more about the reasons I stopped investing in P2P and why I'm continuing to invest in stocks and cryptocurrencies in the long-term. Always do your own due diligence before investing.

If you register to Swaper both of us might receive a commission.
About Swaper
Swaper was founded in 2016 and is part of Wandoo Finance Group, a company based in Latvia. Currently, they operate only in Europe and have 4483 investors. They have more than €195M in loans funded and a total of €2.9 million interest paid to their investors.

Even though is not the oldest p2p lending platform in the market, so far Swaper has proven to be a reliable company. There are a lot of positive reviews and happy customers. Another important factor is the interest rate, which is quite high (around 12%).
There's a possibility to have an extra 2% if the total money of your investments is 5000€ for at least three consecutive months. 14% seems like a good deal, but please keep in mind that currently Swaper is not licensed nor regulated.
In case you'd like to go more in-depth with Swaper and how the internal process works, then feel free to see my interview with their Lead.
Buyback Guarantee & Secondary Market
Swaper has the buyback guarantee feature, which I respect a lot. In the unfortunate case of the borrower refuses to pay, you'll always receive your money back. Well, not exactly always because there's always the chance of the loan originator going bankrupt. It is very unlikely though. Diversification is the key to avoid big losses in these situations.
You can also sell any loan that you've funded to other buyers in the secondary market. This is great because you can recover your money to your bank account fast if you need to.
Loan Originators
Swaper only has one loan originator: Wandoo Finance Group, their parent company. This can be a drawback for many investors as the loans are only being diversified by one loan originator.
Payment Types
The only option available to deposit is by bank transfer. It takes between one and two business days to receive the money in your account. I also tested a withdrawal and I received the money in my bank account after two business days.
My Auto-Invest Strategy
As you can see from the image below, I don't like to invest in loans for more than 12 months. I always seek for a diversified portfolio. That means I don't want to hang around with the same loans for a long period of time.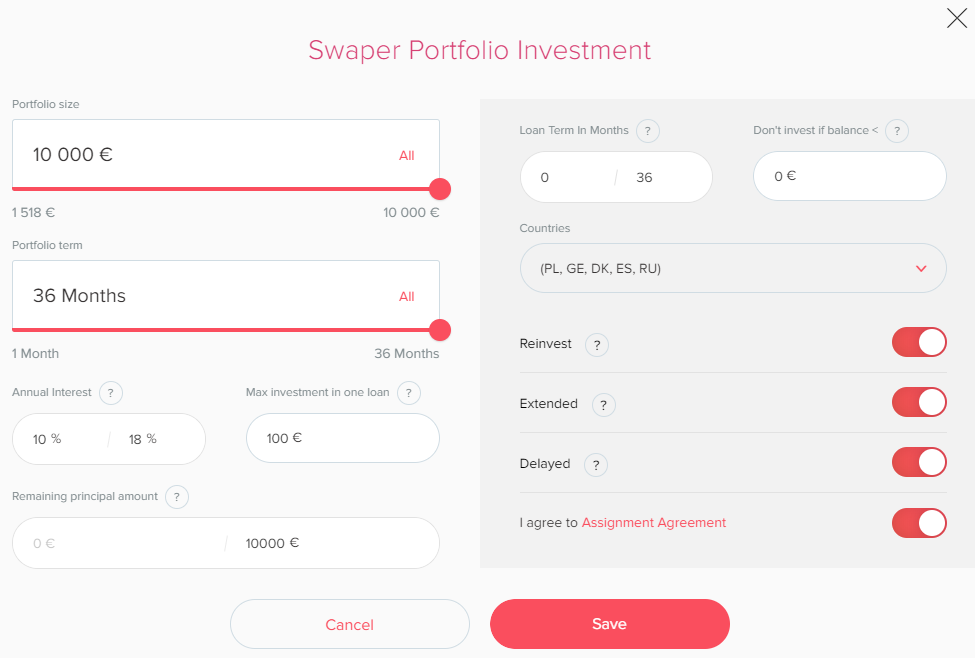 I started by choosing a maximum investment per loan of 10€. It didn't work so well because Swaper still doesn't have so many loans to be invested like other more known platforms. When I entered my account I could see that I still had a big amount of money waiting to be invested. In the end, I changed to 50€ and it started lending much faster. Of course, this value will always depend on the amount you deposit. Just make sure you'll not have your money sitting around for several days. After all, we want to start investing as soon as possible to achieve our goals faster.
I also choose the option to reinvest because I don't want to have to go to the platform and do it manually. Also, I don't plan to withdraw my funds so soon, that wouldn't make sense for my long term goal.
When it comes to extended and delayed loans at first I'd decided to not select them. In my view, extended loans mean that the person asking for the loan is not capable to pay his own debts and needs more help. I also thought (and somehow think) that if someone lets a loan be delayed once, the chances to happen in the future are also likely. Even though I do believe these two previous factors should have more attention and caution, I decided to select them due to the buyback guarantee, which gets activated if the payments don't go as expected.
The secret of diversification is to minimize the risk the most possible while diversifying even more. That's what I'm trying to do in any platform I invest.


Verdict Swaper Review
So far it has been a good start. The platform is really easy to use and understand. All the loans have buyback guarantee and there are no fees appended to any operation.
There are also a lot of nice reviews about Swaper, which consolidates my trust in it.
Swaper also has a blog to keep their customers well informed on new things going on.

It is extremely easy to download your earnings and other statistics relative to your account. You simply need to navigate to the Account Statement menu and fill in accordingly the desired range of time. This is great because it eases the process of declaring the earned passive income to the finances.
Welcome Bonus Referral
Both of us will win a bonus commission if you decide to register with this bonus referral link. It's a win/win situation as described in the 7 Habits of Highly Effective People, one of the books I recommend.
Please feel free to share the School of Freedom blog with your friends. The more people we help, the merrier.
My Portfolio & Other Reviews
See my peer-to-peer portfolio page if you want to find out more about my portfolio performance.
Besides my Swaper review, you can also read about: