Disclaimer: This Crowdestor review is 100% impartial and based on everything I learned. I recommend everyone to do their own due diligence as I am not a finance expert nor a financial advisor.

Last update: 31/08/2021
My Crowdestor's Results After 22 Months
Start date: November 2019
Total profit: €182,16
Total deposits: €1300
Net annual return: 7,40%

Note: The sudden drop in the following chart resembles the withdrawal of money. These were used as a way to rebalance my portfolio in other assets such as stocks or cryptocurrencies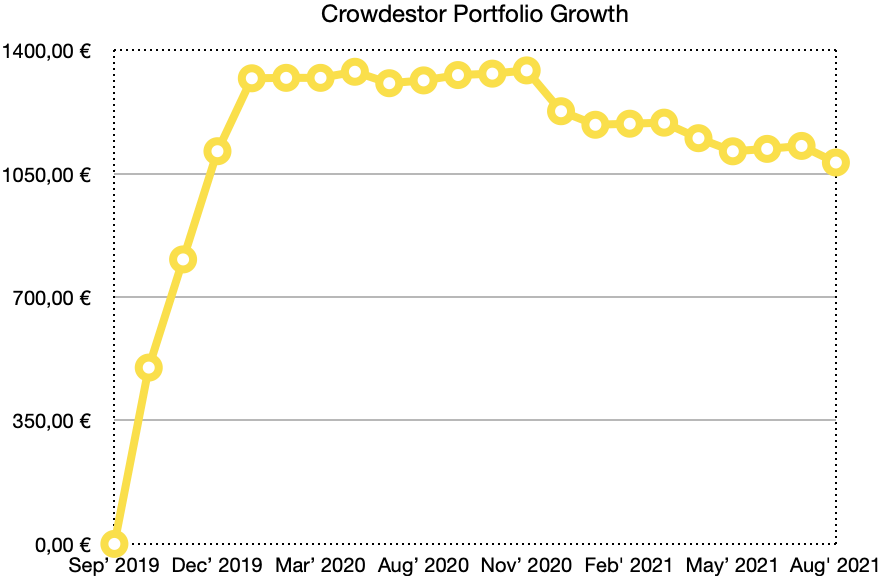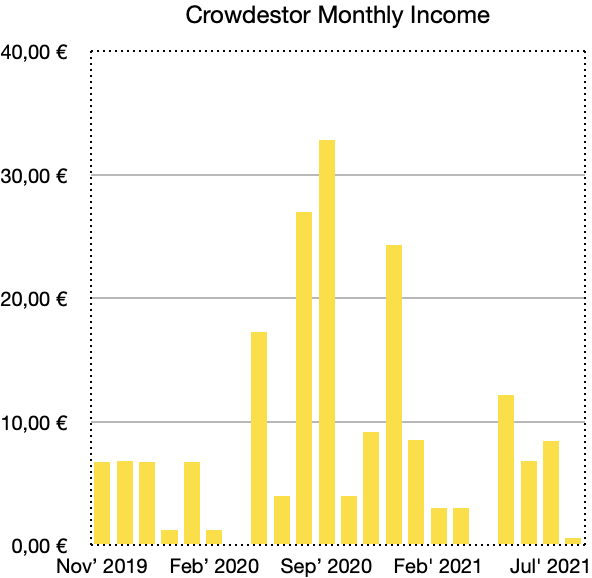 If you register to Crowdestor both of us might receive a commission.
About Crowdestor
Crowdestor was founded in 2017 and is based in Estonia.
The name of the platform itself is a good presage: Crowdestor (Crowd + Investors) that goes along with their motto: simplicity, transparency, and safety.
What attracted me the most, was the extremely high return interest rate (for now) comparing to other popular platforms available in the market. Do not forget though, that usually high interests also mean that these projects have an high-risk.
Unlike many other peer-to-peer platforms, Crowdestor does not have loan originators. All the investments made by their clients are processed through them (the middleman) and then given to the borrower.
Provision Fund
Differently from the other platforms, Crowdestor does not have the so well known buyback guarantee operated by the loan originators. Instead, they have their own provision fund.
As shown in the past, NOT having a buyback guarantee or early exit fee can also be a good thing as there is less risk of the investors deciding to withdraw huge amounts from the platform at the same time (creating a bankrupt in the company).
For each finished project, they add 1-2% to their buyback fund.
In case of a default of a borrower, the platform will use its funds to pay the investors.
As you can see by the image above, their fund is already at a considerable value. Their initial goal of €100,000 was successfully achieved, even before their planned date, which is a really positive thing from this company.
High-Return Projects
Crowdestor gets new projects regularly and from different sectors.
Below, are two examples of the kind of opportunities you can get in Crowdestor.
Mafia Stars (18% + 14%)
The first example I will show you is the 2nd round (yes, there was already one concluded loan!) of Mafia Stars, a popular mobile game. With an unquestionable 18% at the end of the 12 month loan period, there is a chance to receive an extra 14% depending on the in-game purchase made by their users.
If all goes as expected, there is a high chance of receiving an interest rate of 32% in a period of 1 year! Where else can you get it, with such a level of certainty? 🙂

Warhunt (18% + 12%)
Crowdestor even finances movies, that's right. With an interest rate of 18% + 12% for the period of 24 months, this is yet another great opportunity for investors. One you should almost never skip.
Premium Foods Confectionery (15%)

As you see, Crowdestor has a variety of business types to invest in. This latter one is related to the food sector.
---
It is also good to mention that at this moment all the projects must be invested manually as there is no auto-invest option.
Payment Types
You can deposit money in the platform by making an international bank transfer (SEPA). I've already tested it and it took me one business day to have the money in my account.

I also tried to withdraw my first deposit and it went as expected.
Below, you can see my Crowdestor's deposits & withdrawals:

Verdict Crowdestor Review
Until now Crowdestor has proven to be one of the Crowdlending platforms with the higher interest rates. The diversification of projects inside the platform is good enough to make a good portfolio out of it.
If you're all about diversifying your money (you should be) then I highly recommend you investing in Crowdestor, as it can drastically increase your return with crowdlending platforms.
Take into mind, though, that there is no secondary market and you cannot sell your loans if needed. Also, remember that these projects have a high-risk and you should only invest if you can afford to lose your money.
Welcome Bonus Referral
Both of us will win a bonus commission if you decide to register with this bonus referral link. It's a win/win situation as described in the 7 Habits of Highly Effective People, one of the books I recommend.
Please feel free to share the School of Freedom blog with your friends. The more people we help, the merrier.
My Portfolio & Other Reviews
See my peer-to-peer portfolio page if you want to find out more about my portfolio performance.
Besides my Crowdestor review, you can also read about: