January was a tough month for all the crowdlending investors out there. It was tougher though, for the ones (like me) who had some of their investments in Kuetzal or Envestio.
I have lost €400 in total in those two platforms (€200 in each)
I have learned my lessons and I stopped being so naive about the P2P industry in general. Of course that I still have a lot to learn as an investor, but these are the key notes I learned from this experience that I want to share with you.
All been said, my total profit in Crowdlending decreased from €412,75 – 400€ (Kuetzal and Envestio losses) + €100,32 (January's earnings) = €113,07.
At least I'm still positive and I'm going to do my best to have better results as an investor in the future whether in Crowdlending or other type of investment.
Crowdestor

The passive income in Crowdestor remains similar to last month so there's nothing really spectacular to mention about that.
I'm seriously thinking about reducing my Peer-to-business portfolio after the recent events with Kuetzal and Envestio. I prefer to lend my money to smaller loans with higher chances of being recovered.
It is harder to keep control of projects with sums up to a few millions. Where is the money actually going? Are they actually using all the funds lent by the investors? Do they have money to pay us back? Was the project fake and one million went to a fiscal paradise and we'll never see our money again? I'm not saying that Crowdestor has these intentions – so far I trust them – but I still prefer to play safer.
These questions are the ones I want to avoid thinking about and that I think you should also question yourself.
Grupeer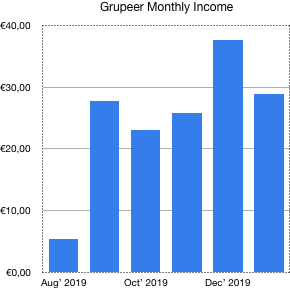 Grupeer keeps stable and with good returns. This month I had close to €30 in passive income. A slight decrease from last month but I'm still happy with the results.
Soon I will publish the interview that I've had with Grupeer's CEO, Alla Kisika, so stay tuned to the School of Freedom.
Mintos

Mintos is probably the platform in which I currently invest in which I trust the most. The company's size and profitability make me have a good feeling about them and their future.
I'm still looking forward for the regulation of Crowdlending in Europe. Only then, I'll feel that P2P is a great choice for investors to diversify their portfolio.
I also sent some questions to the Mintos Team where I hope that their CEO, Martins Sult will answer some of my questions.
PeerBerry

PeerBerry still owns the trophy of "This is what compound interest should look like Graph".
I'm even more satisfied with PeerBerry after having interviewed their CEO, Arūnas Lekavičius.
The interview was also post on PeerBerry's blog.
Swaper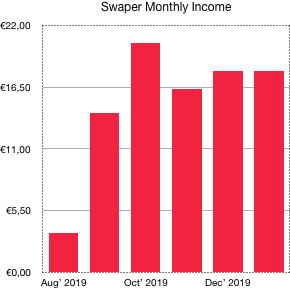 Nothing has changed in Swaper's stability worth to announce. Everything is working just as expected.
I also sent some questions to the Product Owner of Swaper, Danija Misus, and I'm currently waiting for answer before posting it to my blog.
Robocash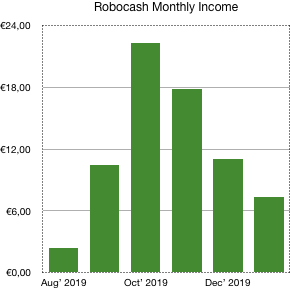 The passive income in Robocash was slightly less than last month's but still okay.
I'm looking forward to hear the answers from Robocash's CEO, Sergey Sedov to the questions I sent this month.
School of Freedom
January is the month in which we had more visitors. This makes me really happy because it means that we're helping someone to get more informed not only in the investment business but also in life in general.
If you think someone could also benefit from it, please feel free to share the School of Freedom to your friends!